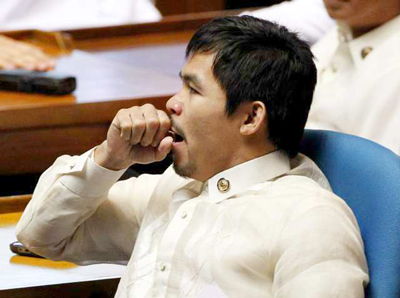 MANILA, Philippines -  The Philippine Charity Sweepstakes Office (PCSO) disclosed yesterday that Sarangani congressman and world boxing champion Manny Pacquiao will get seven ambulances for his district in exchange for his endorsement of the fund raising and charity programs of the agency.
Manny Garcia, PCSO publicity and advertising manager, said that the PCSO board led by Chairperson Margie Juico and general manager Jose Ferdinand Rojas III have already approved the release of the ambulances.
"Representative Pacquiao is the new endorser of PCSO," Garcia said.
Garcia said the cost of the endorsement of Pacquiao ranges from P20 million to P30 million while the seven ambulances from PCSO are worth less than P7 million.
"It (Pacquiao's endorsement) is a big boost to the fund raising and charity campaign of the PCSO," Garcia said.
The PCSO, under the Office of the President, provides medical assistance to the poor and needy and also conducts medical missions in depressed areas in the country.
The agency has also launched the online lottery draws that have become very popular and so far made more than 1,500 ordinary citizens instant millionaires.
Garcia said the ambulances for the congressional district of Pacquiao will be purchased through public bidding.
He said the PCSO is mandated to give free ambulances to third class municipalities. For firstclass towns and cities there is a 60-40 sharing scheme between the PCSO and the local governments in the payment of the vehicle's cost.